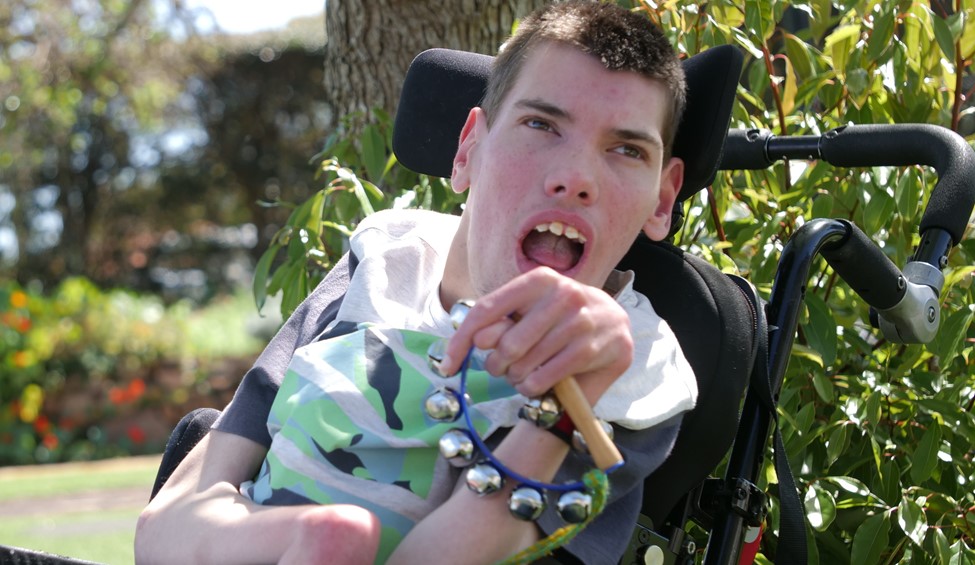 Published on Tuesday 6 October, 2020
Today we celebrate Mitchell, as part of World Cerebral Palsy Day.
This year's theme is 'make your mark' and we'd like to share how Mitchell, or Mitch as he is known to many of us, makes his mark.
Firstly, Mitch has a real love of rock music - the louder the better. "Turn it up to 11" could have been a phrase made just for Mitch. He really likes bands such Nickelback and will ring his bells and share a contagious laugh when he hears something he likes. At our discos Mitch prefers to be in the thick of it, close to the speakers, and his delight when he hears something rocking is contagious.  Mitch makes his mark by reminding us to celebrate our passions.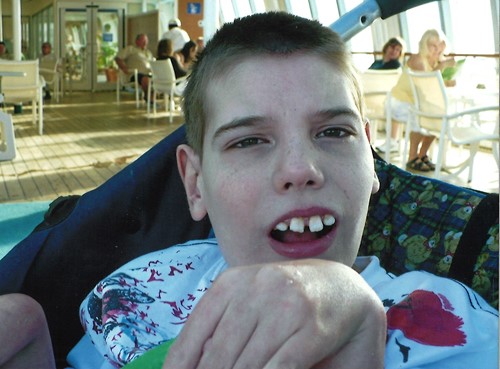 Mitch notices small details. He enjoys sitting under trees and watching the leaves move above him. He likes the way the light falling through the leaves makes patterns. He loves to feel the breeze trace across his skin and enjoys taking in the changes of colour and texture as clouds shift across the sky or as the weather changes. He loves to study the colourful fish in his father's marine fish tank and watch their aquatic travels. Mitch makes his mark by showing us how to find joy in small things and to how to live life in the moment.
Mitch has kept the sense of play and humour he has had since he was a child when he would roll across the floor in a "beeline" to his aunties stereo with the sole mission of tapping it with his foot just to see her reaction. Those who know Mitch describe him as cheeky with a sense of playfulness, and an ability to turn small moments into games. He loves the water and gets great pleasure from splashing as much as he can. Mitch makes his mark on us with humour and reminds us to live a life of fun.
Finally, Mitch makes his mark by surprising us. More than once Mitch has been known to laugh or smile at something funny from a nearby conversation. In many small ways we continue to learn more about Mitch and how much of what is happening around him he understands. In this way, Mitch makes his mark on us by teaching us to keep an open mind and to never underestimate him.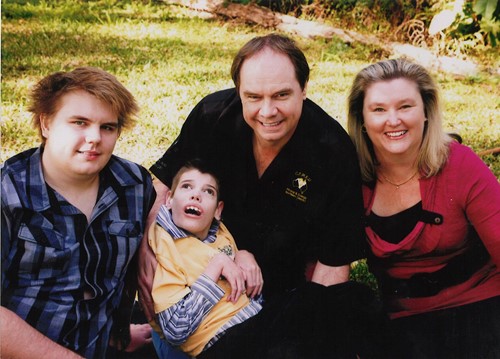 Mitch's family has shared with us some childhood photos of Mitch, which we have placed in a gallery below. It's been a pleasure for us to see these lovely pictures of Mitch as a child. 
Cerebral palsy is the world's most common childhood disability yet there's a broad lack of knowledge of what it is and how it's caused. 1 in 700 Australian babies is diagnosed with cerebral palsy and 34 000 Australians have the condition. Globally 17 million people have cerebral palsy. 
1 in 2 is in chronic pain.
1 in 2 has an intellectual impairment.
1 in 3 cannot walk.
1 in 3 has hip displacement.
1 in 4 has epilepsy.
1 in 4 has a behaviour disorder.
1 in 4 cannot talk.
1 in 5 is tube fed.
1 in 5 has a sleep disorder.
1 in 10 has a severe vision impairment.
1 in 25 has a severe hearing impairment.
(Source: cerebralpalsy.org.au)
World Cerebral Palsy Day is October 6th.