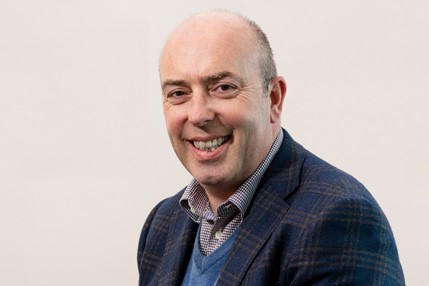 Andrew Hyland - Chief Executive Officer

Skills and expertise
Andrew has a diverse background with over 25 years' experience in challenging environments requiring a transformation focus. With industry experience including financial services, construction, transport, media, telecommunications, utilities and healthcare, Andrew has also worked across many functional areas including financial management, enterprise technology, HR, operations and communications. With proven leadership capability and the resilience to succeed in tough environments, Andrew brings a unique skillset having operated both as a consultant and executive.
"I see an exciting and purposeful future for Lifestyle Solutions. Building on our strong foundation, our new strategic plan will guide and inform our programs, practices and policies to ensure we are well positioned to deliver exceptional levels of service to the people we support whilst creating a positive and rewarding workplace for our staff. Our goal is firmly set on creating the industry standard for innovative, responsive and relevant care which recognises not only the unique needs of the people we support, but also their very real contribution to our community."
---
Leanne Perry - Executive Leader – Finance, Risk and Governance
Skills and expertise
Leanne brings extensive experience in finance, governance strategy and customer relations to her role. Leanne has more than 20 years' experience in many different industries covering all aspects of back office functions, commercial contracts and general management.
"This year it's been a privilege to work closely with the Board, Executive Leadership Team and wider organisation to further strengthen our internal systems as well as our governance policies and processes."
---
Dr John Carlisle - Executive Leader – People and Culture
Skills and expertise
John has extensive experience in human resource management and business consulting across a broad range of industries and sectors in Australia, Asia, the USA and Europe. John has a strong background in the Human Services sector in talent management, organisational design, change management, process improvement, industrial/employee relations and staff engagement. John holds degree qualifications in Economics, Industrial Relations, and a PhD in High Performance and Innovation.
"Lifestyle Solutions has one of those rare opportunities to create the sort of workplace that we all hope for, yet so rarely experience. I think we are on the verge of doing something special and genuine, and I want to be part of that.
---
Jonathan Marin - Executive General Manager – Customer Service Delivery
Skills and expertise
Jonathan has extensive experience in customer facing roles, service design and customer experience in the aged care and community services sectors, including disability enterprise services.
Whilst at New Horizons, Jonathan led the development and implementation of a customer strategy that delivered improved quality of care and customer outcomes.
He has also worked in the telecommunications, retail, banking, steel manufacturing and education sectors with Telstra, Sanity, ANZ, Westpac, Webforge and, most recently, at TAFE NSW's Northern Sydney Institute.
Jonathan's approach is very collaborative and inclusive. He's committed to supporting our people and our customers.
"I'm looking forward to expanding my thinking on customer experience and service design to help better the lives of our children and people living with disabilities among our communities. Everyone deserves a good life, and am excited at the prospect of designing services and experiences that lead people to achieve what they have set out to, and to be a part of their success."
---
Servena McIntyre - Executive General Manager – Practice Assurance and Quality
Skills and expertise
Servena is an experienced executive, manager, researcher and practitioner with over 25 years' experience working across multiple service domains and locations with organisations such as Uniting, LWB, AbSec, Charles Sturt University, Juvenile Justice and Relationships Australia. 
Servena's unique blend of practice excellence and cross-cultural expertise has afforded her considerable opportunities and achievements including membership of Minister Goward's Aboriginal Child Sexual Response team, Senior Researcher within the Child Care of Choices of Indigenous Families Project and lead for the international first supported decision-making pilot for children with a disability.
Servena was the founder of Jaanimili, featured in the Closing the Gap Report, winner of the ACWA award for innovation and regarded capacity building partner establishing five new Out Of Home Care and Child & Family organisations.
"I am delighted to be joining Lifestyle Solutions at this incredibly transformative time, both as an organisation and sector. Considerable planning and consultation over the past 12-18 months sees us poised to enact new ways of working and responding to needs and aspirations of people we support. I am excited to be able to lead a newly created portfolio intended to promote practice and clinical excellence and contribute to a culture of continuous improvement and innovation."
---
Michelle Mancy - General Counsel
Skills and expertise
Michelle is a highly accomplished senior legal professional with over 20 years corporate experience providing legal services across Australia, New Zealand, Asia and Europe, most recently as Vice President, Senior Counsel with American Express in the United Kingdom.  
Upon returning to Australia, Michelle wanted to move into the not-for-profit sector, using her commercial experience in a community services organisation.
Michelle was appointed General Counsel in 2017.
Michelle oversees all legal activities at Lifestyle Solutions guiding the board, executive and entire team.
Prior to joining Lifestyle Solutions Michelle was responsible for setting up and leading an innovative centralised model for providing legal support globally across American Express' organisation.
Michelle's approach is to be an authentic and engaging leader who drives collaboration and achieves results through developing talent and remaining focused on the business' objectives whilst making a difference within the wider community.
"We care about getting ahead of the curve in a sector that is heavily regulated by an increasingly complex web of obligations.  We are committed to creating solutions for everyone to have access to better service."
---
Justine Walsh - Head of Transformation

Skills and expertise
Justine Walsh has over 20 years' experience planning and delivering large scale transformation programs across banking, retail, education and not for profit sectors. She is adept at translating business strategy into projects to deliver measurable business outcomes. Justine specialises in creating the right environment for change to be successful by providing support, coaching, measurement and monitoring and ensuring that organisational goals can be met.  
"It's exciting to work in a sector that is undergoing such seismic change and where the change is geared to providing such a vital service to individuals and the community. We have an amazing opportunity to be leaders in this change and to deliver on our promise of Better Service for our customers and be a great place to work for our teams."