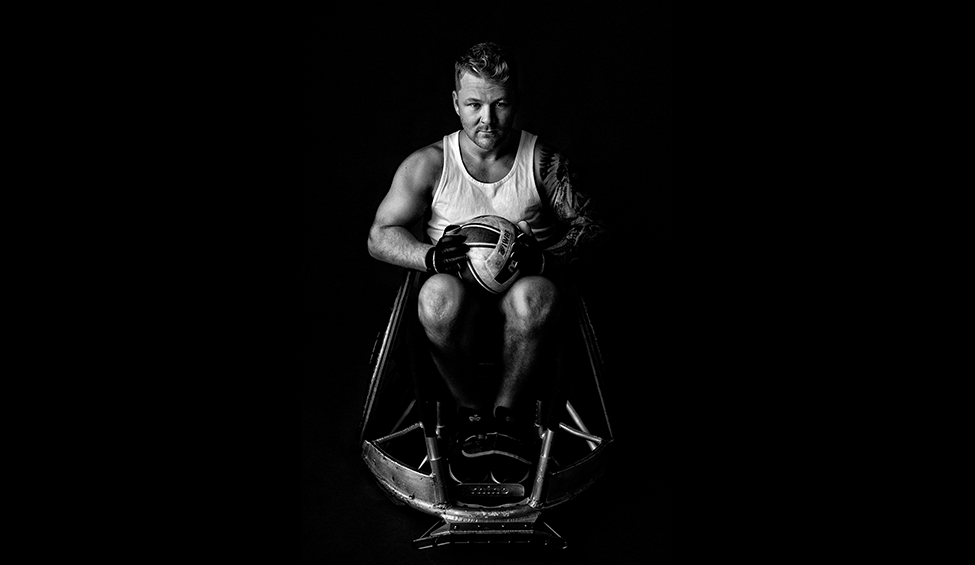 Published on Wednesday 5 May, 2021
In the days following a diving accident at Shoal Bay which left him paralysed, doctors at Sydney's Royal North Shore Spinal Unit told Ash Treseder being able to shrug was possibly as much movement as he could hope for.
Fast forward two years and Ash is four weeks out from competing in the Wheelchair Rugby National Championship on the Gold Coast. It's an extraordinary achievement and even Ash is surprised at how far he's come.  
"I started watching wheelchair rugby when I was in rehab. Initially, I was hesitant about going as I still had a lot of neck pain and it looked a bit brutal, but I enjoyed being around other people in wheelchairs. They were all just getting on with life, going to games after work, bringing their families. The shared experience was really important," said Ash.
"Bit by bit I started getting into the rugby chair. There was one bloke at the games and each week he would increase how hard he'd tap me with his chair and one day he gave me a really big hit. Once I realised how much impact the chair could absorb my eyes just lit up and I thought maybe I can get into this."
Sport has been a huge part of Ash's life. He's played competitively since he was five and getting back into the action has been really important for his recovery.
One of the things Ash likes most about wheelchair rugby is its respect for each player's ability and their contribution to the game. He's also enjoying the camaraderie that comes from being part of a team.
"Wheelchair rugby athletes have impairment to at least three limbs. Based on your functional ability, you're assigned a point value from 0.5 to 3.5. The higher your functional ability, the higher your point but it doesn't matter if you're a 0.5 player with low function, your role is just as important as a 3.5 high functioning player."
"There can only be eight points in play at any time and we all have a specific job to do. Whether you're low or high functioning, a defender or an attacker, we're all there to support our teammates because it's a tough, physical contact sport. It wasn't called 'Murderball' in the past for no reason," laughs Ash.
Practical and down to earth, Ash converted his garage into a home gym last year when COVID-19 restrictions closed some of his training options. He's pleased to be back in full training now, travelling to Sydney twice a week to train at Olympic Park and participate in weekend competitions. He's also introduced simulated altitude training and weightlifting into his program.   
"The altitude training has really improved my oxygen intake and I've always loved doing bench press. I started lifting again last year with 20kg and I'm up to 75kg now. Getting my lungs, arms and chest stronger has helped with everything from my cardio fitness and stamina to my balance and independence."
"From where I started in hospital rehab to where I am now is amazing. Every aspect of my training has brought me to this point and I'm really looking forward to the Championship."
Asked about how well he thinks he'll do, Ash is confident he and his team will do "pretty well".
In a great reflection of Ash's sportsmanship, he'll be playing with the South Australian team at the Championship despite being a member of the NSW squad. The South Australian team were short a few players and Ash, in true form, put the game first and happily agreed to join their team. He's looking forward to meeting up with the players on the Gold Coast and having a great competition.
"Of course, I want to win but just the experience of competing will override the result. It will be great to meet new people and learn from their experiences on and off the court."
Ash was really excited when he heard that Lifestyle Solutions was one of the major sponsors of the Wheelchair Rugby National Championship.
"It's really cool. It makes me very proud to work for a company that supports this sport."
Prior to his accident Ash was a Support Worker with Lifestyle Solutions and he's recently taken on a new role as Safeguarding Administrator.
"Lifestyle Solutions has been incredibly supportive of me. It's great to be back at work and I've really appreciated how accommodating they've been about my rehab and training."
Asked about his plans after the Championship, Ash's face breaks into a big smile.
"I've been invited to attend an emerging talent camp with Wheelchair Rugby Australia. My goal is to compete at the Paralympics so I'm really excited to have been given this opportunity."
You can't help but think that the courage and determination that's brought Ash to the National Championship will take him to his goal. 
You can see Ash in action when the Championship starts on Friday 28 May. You can also livestream the event at wheelchairrugby.com.au