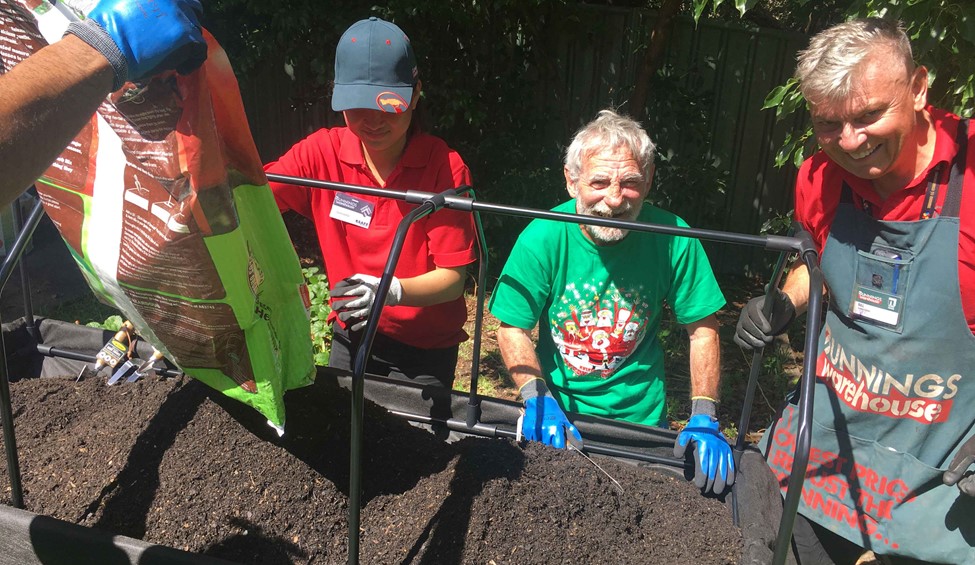 Published on Friday 12 April, 2019
On a recent visit to their local Kingsgrove Bunnings Warehouse in search of a raised garden bed, our customers in Penshurst NSW were introduced to Bunnings' Event Coordinator, Krissy.
Krissy jumped at the chance to help our customers and offered to donate the plants, soil and mulch needed for the project. She also organised a team to help construct the raised garden bed completely free of charge.
"For many of our wonderful customers, the opportunity to connect with their community empowers them to pursue their interests and enjoy important social interactions," said Lifestyle Solutions Coordinator, Lia Leiatatimu.
"When our customers approached us with their idea about a raised garden, we encouraged them to turn their idea into a goal. With the help and support of the generous local Bunnings team, they were able to achieve this goal," said Lia.
Armed with gloves, spades and watering cans, Krissy, together with Bill and Shahara from Bunnings' Mascot Warehouse, arrived at the house in Penshurst ready to get to work. Along with our enthusiastic and eager customers, the team built a clever and practical raised garden bed and finished off the project by teaching our customers how to care for their new garden and plants.
"After they'd finished putting the garden together, they told me how happy and proud they were of what they'd achieved and that, to me, was priceless," said Lia.
Lifestyle Solutions would like to send a huge thank you to Bunnings Warehouse and their staff for generously donating the garden bed and showing their support for our customers.