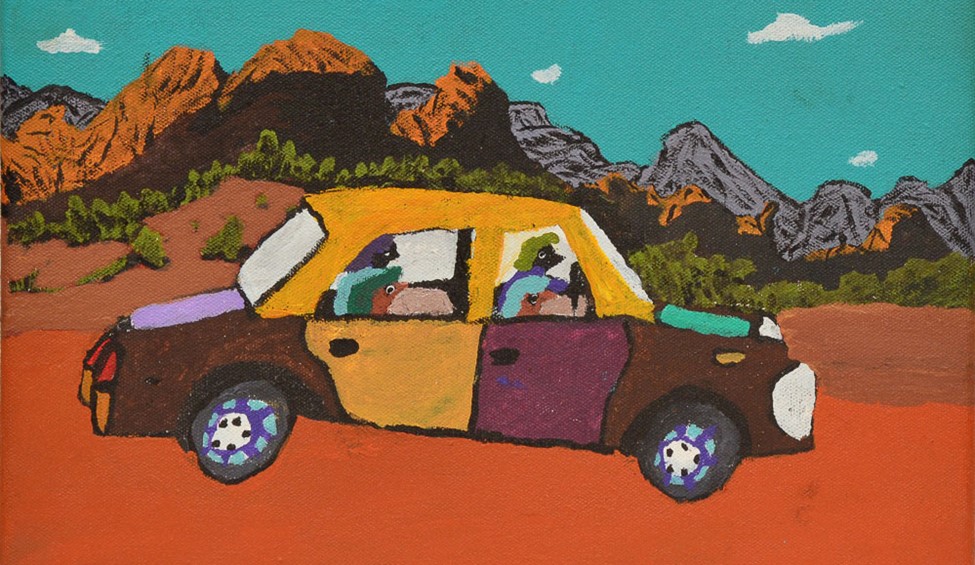 Published on Wednesday 16 September, 2020
Self-described as kooky, genuine and fresh, the art created by Bindi Mwerre Anthurre artists in Alice Springs is also colourful, evocative and award winning. With its catalogue now online, the annual Bindi Magic exhibition is your chance to experience and own this amazing art.
Officially opened on Sunday 9 September, the exhibition showcases the latest and greatest Bindi works and will be on display through to Friday 9 October, at Bindi Gallery, 47 Elder St, Alice Springs.   This year, Bindi have produced an online catalogue to compensate for COVID-19 travel restrictions. The catalogue also features a selection of artwork from the Bindi Stockroom.
This unique and mesmerising exhibition brings together the magic of Kukula McDonald's energetic cockies, Billy Kenda's intrepid vehicles,  Lance James' wild brumbies, Conway Ginger's quirky characters, and Charles Inkamala and Adrian Robertson's home country ranges.  Adrian Robertson won this year's prestigious Telstra National Aboriginal and Torres Strait Islander Art Award for General Painting, while Lance James was a finalist in the same category.  Both works now hang in the Museum and Art Gallery of the Northern Territory.
Bindi Mwerre Anthurre Artists studio supports Central Desert Aboriginal artists with disability to create high quality fine art in their own style and voice.  The studio provides a means for its artists to develop and receive recognition for their artistic practices by providing supported studio spaces, a national exhibition schedule, design contracts, multimedia collaborations, art fairs and art award opportunities.
Lifestyle Solutions is proud to support Bindi Mwerre Anthurre Artists.  We congratulate all the artists involved with the exhibition and thank them for allowing us to see the country, places and people they love through their eyes.
View the Bindi Magic catalogue
Learn more about Bindi Mwerre Anthurre Artists studio 
Below are a few of the artworks. Full details, including prices, sizes and the artists name, are available in the catalogue.