Published on Thursday 24 February, 2022
National disability service provider Lifestyle Solutions has signed a three-year partnership with Wheelchair Rugby Australia (WRA) to be a major sponsor of the Wheelchair Rugby National Championship.

Lifestyle Solutions was a major sponsor of the 2021 Wheelchair Rugby National Championship and this new partnership builds on that strong foundation.

"Signing up to be a major sponsor for the Wheelchair Rugby National Championship is a great way for Lifestyle Solutions to grow our social impact and celebrate the ability of these exciting athletes," CEO Andrew Hyland said.

"This partnership is going to help people with disability and communities around Australia to achieve what's important to them," Andrew added. "That's in line with our purpose."

Lifestyle Solutions' sponsorship will provide for the efficient transport of athletes to and from venues during the Championship and enhance the experience of athletes, coaches and officials. It will also enable the inclusion of developing teams and help generate greater athlete pathways to competition.

Wheelchair Rugby Australia's General Manager, Chris Nay, said Lifestyle Solutions had made an overwhelming contribution to wheelchair rugby since their first involvement in 2021.

"The announcement of a three-year extension of their sponsorship of the Wheelchair Rugby National Championship is a clear representation of their intent to make positive change for people with a disability and our wheelchair rugby community more broadly," said Chris.

"Lifestyle Solutions has a great reputation right across Australia. To be able to work together to build wheelchair rugby's future for the next three years is an exciting prospect for our athletes. It will make a significant difference to our sport, and we are very thankful for their support."
Further Information:
Contact: Miriam Goodwin, Head of Stakeholder Engagement, Lifestyle Solutions
M: 0409 246 282
E: miriam.goodwin@lifestylesolutions.org.au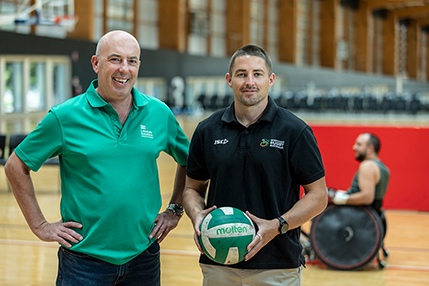 Andrew Hyland (left) and Chris Nay look forward to developing opportunities for athletes and wheelchair rugby.