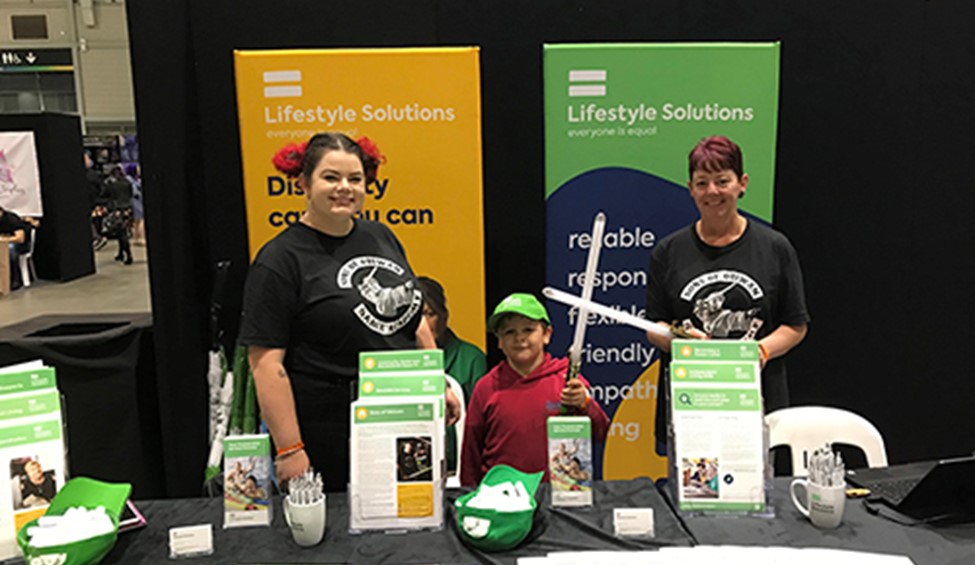 Published on Monday 12 July, 2021
Thousands of 'Supa-Fans' turned out at Supanova Sydney to glimpse their heroes and Lifestyle Solutions was right there amongst the action making one young man's dream come true in the midst of this vibrant, fan-based community.  
We knew it had been a lifelong dream of Anthony's to attend Supanova. So, with superhero stealth, the team at Lifestyle Solutions set about fulfilling his dream through our We See Your Dream initiative.
Supanova is the largest pop culture expo in Australia attracting close to 40,000 people. It's the ultimate place for fans to celebrate their favourite characters from movies, TV shows, comics, anime, wrestling, gaming and literature. It's also a chance for them to meet their idols and source collectables.
This massive event at Sydney Olympic Park was run over 19-20 June and our 'Dream Team' pulled out all stops to make sure Anthony had the time of his life.
Anthony's day kicked off with a private light saber theatre combat lesson with an instructor from Sons of Obiwan Saber Academy. Hesitant at first, Anthony quickly found his inner Jedi and the huge smile on his face at the end of the session said it all.
And the surprises kept coming with the team arranging for Anthony to meet actor David Wenham, star of Lord of The Rings and 300. Having his photograph taken with David and getting his autograph topped off their meeting and he had a great afternoon visiting the interactive stands with his Support Worker and taking in all the action.
Catching up with Patrick Wilsmore, Lifestyle Solutions' National Business Development Lead, during the day, Anthony said that "being at Supanova was one of the best experiences I've ever had." Wiping away a tear, he told Patrick he would "forever cherish this moment for the rest of my life."
While it was great that we could make Anthony's dream come true, he also made our dream of giving him the best experience ever come true. It was fantastic to be able to create such special memories for him.
We also brought some other young people we support to Supanova so they could experience all the fun. For one young man from the Central Coast meeting legendary Australian actor, John Jarratt, star of Wolf Creek, was the highlight of his trip.
"It was an honour for us to be part of this spectacular event and to share a stand with our community partner, Sons of Obiwan Saber Academy," said Patrick.

"Through their saber lessons and the great shows they put on over the weekend, people were able to see the really positive impact this activity offers people with a disability."
Patrick said Lifestyle Solutions' participation at Supanova was an industry first.
"This was the first time that a disability or human services provider had attended and it was through our relationship with Sons of Obiwan that we were there. They've been great supporters of the work we do helping people to achieve their goals and realise their dreams."
"Supanova has given Lifestyle Solutions a unique opportunity to start to connect with a new community engagement forum where up to 35% of all people who attended the event have some form of special needs or a disability," said Patrick.
Newcastle team members, Amanda O'Hara, Intake & Onboarding Lead, and Faith Glover, Child and Family Intake Specialist, travelled to Sydney to help over the weekend. They had a great time talking with visitors to our stand about the various services we provide, our community programs and employment opportunities. They also joined Patrick in presenting John Jarratt and David Wenham with some Lifestyle Solutions momentos.
"It was a real privilege to work with so many pop culture industry leaders and providers to deliver memorable experiences for visitors to Supanova," said Patrick.
View images of the day in the gallery below.