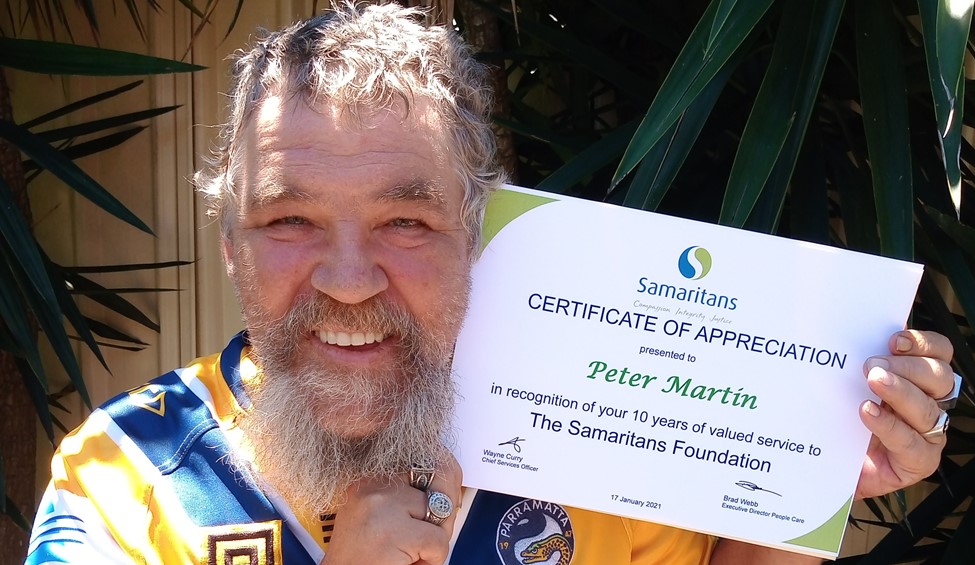 Published on Monday 1 February, 2021
If you're a regular reader of our stories, you'll have seen Pete a bit recently.
We've featured his dog Rusty.
And his amazing Santa collection.
Last week, Pete received an award for ten years of service with Samaritans, and we didn't want to keep that to ourselves just because he's been in the spotlight recently.  Here's what Pete wanted to share:
"I love my job with Samaritans. They've been really nice to me and treat me well. I do cleaning for them. I vacuum and clean the toilets. I love working with other people and feel proud of what I do."
When asked if he would like to work with Samaritans for another ten years, Pete's response was, "Yes, of course!"
Congratulations Pete. We are proud of you. And for those enjoying Pete's adventures, stay tuned. Pete may be Australia's biggest Paramatta Eels fan, and that's another story worth celebrating.