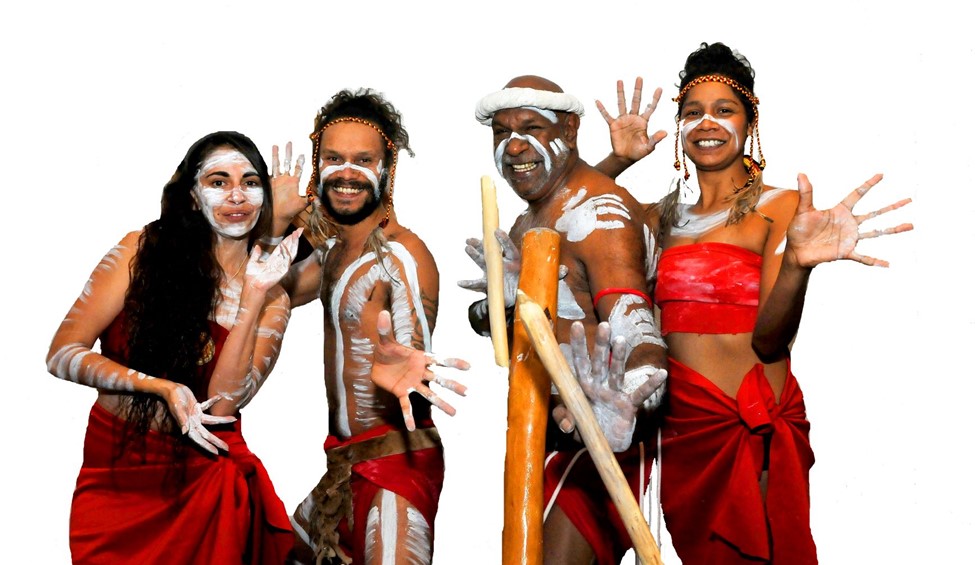 Published on Wednesday 11 November, 2020
Lifestyle Solutions is celebrating NAIDOC Week with a series of online cultural and educational events for our team members across the country.
The first of these was an immersive Aboriginal First Nations dance, music and cultural education performance by Walangari Karntawarra and Diramu Aboriginal Dance and Didgeridoo (pictured above).
The interactive online performance shared First Nations' dance, language, stories and culture.  Led by Charlie, and Walangari Karntawarra, the audience were invited to get up out of their chairs and dance and sing with their hosts.  Those attending also learnt about bush tucker and medicine, the history and role of the digeridoo, how different boomerangs are made, how the woomera is used, and stories from the Dreamtime. 
Ben Gardner, Disability Admin Support in Hobart, said he attended the session out of curiosity and to learn more.
"NAIDOC week is a good chance to broaden your knowledge.  I learnt that First Nations People had cooking fires in their canoes. They made a clay base they could build the fire on and would fish at night using the fire for light and cooking."
Ben said he also enjoyed learning how eucalyptus leaves warmed over a fire were used to deter mosquitoes.
"It was a good reminder that when we think about the technology First Nations People used, it was quite broad and sophisticated."
Maria, Policy Officer in Burwood, attended to learn more and to show her support for Aboriginal culture.
"It's important to make time to attend events like this. It's part of fostering a positive and inclusive workplace culture – workplace culture isn't built for you, we build that. It's great to see Lifestyle Solutions supporting Aboriginal culture and helping staff who aren't Aboriginal to learn more."
Maria was also intrigued to discover that bread could be made from a common plant she walked past almost every day.
"I was really interested in the bush tucker. I see Lomandra growing around all the time. I didn't know the seeds were edible and that they could also be ground to make bread."
Other events scheduled for NAIDOC Week include a screening of the award-winning Australian documentary 'In My Blood It Runs' and a Welcome to Country and group discussion with Yuin man and educator, Jade Kennedy.
Find NAIDOC week events near you
Learn more about Walangari Karntawarra and Diramu Aboriginal Dance and Didgeridoo