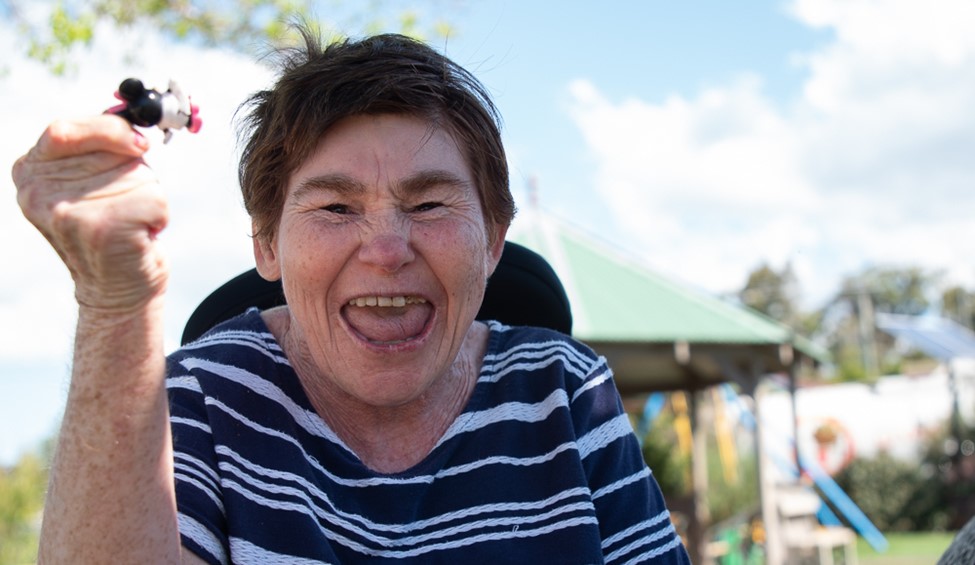 Published on Thursday 24 September, 2020
Di sneaks out of the building and into the garden when Steph isn't looking.  She hides several trinkets among the plants and sculptures.
"Hey Steph. Do you want to go on a treasure hunt?"
Steph looks up from her colouring-in with a huge smile and a very definite "yes." As Di takes hold of Steph's wheelchair and begins to move her away from the table, Steph claps her hands.  Calls of "good luck" and "have fun" come from those around them.
Di has strategically placed the treasure to be both in Steph's line of site and within her reach from her wheelchair. When Steph spots something she yells enthusiastically and points to where Di should take her. Steph prizes simple things – a small Mini Mouse figurine, a painted rock, a pretty shell.  Each new discovery brings Steph fresh delight.
Once back inside, Steph gifts her friend Beavin a flower she picked herself.  Her face erupts in joy as Beavin thanks her and plants the bright yellow Calendula against his nose.  Di exchanges a smile with her fellow Support Workers.  It's been a long slow journey to bring this much joy into Steph's days.
"When Steph first joined us, she didn't want to move from the table," said Di.  "She just didn't want to interact or move. The first time I tried to take her out into the garden she screamed at me."
Di and her fellow Support Workers, Chriss and Sue, knew they would need to take things slowly with Steph and gain her trust with small simple steps. 
"Early on she was attracted to a doll in the toy cupboard.  That became her doll, but every day, she had to pick her doll up out of the toy cupboard, and then put it back again before she went home.  It's such a simple thing, but it was the start.  It was one thing she was comfortable with that moved her away from the table and brought her some happiness," said Chriss.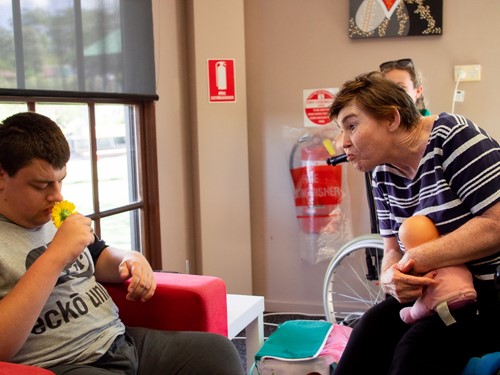 Di, Chriss and Sue each support Steph on a different day of the week.  While they were united in their approach to helping Steph, it was in their individual relationships and day-to-day moments with her where the breakthroughs were made.
"We all have our own unique relationship with Steph which means we all found different things she responded to," said Di.
"It's the small things such as the treasure hunt, or feeding the fish, or just helping make a cup of tea.  Over months this has built into a routine of things she loves to do and looks forward to."
With her confidence growing over time, the Support Workers began to see a new side of Steph emerge. Not only had Steph found happiness in her activities, it became clear she took joy in giving.
"Steph loves to give of herself and help others," said Chriss. "I love the way her face lights up when she feels she has helped someone or contributed. She is such a beautiful lady."
You can see more images of Steph enjoying her activities in the gallery below.