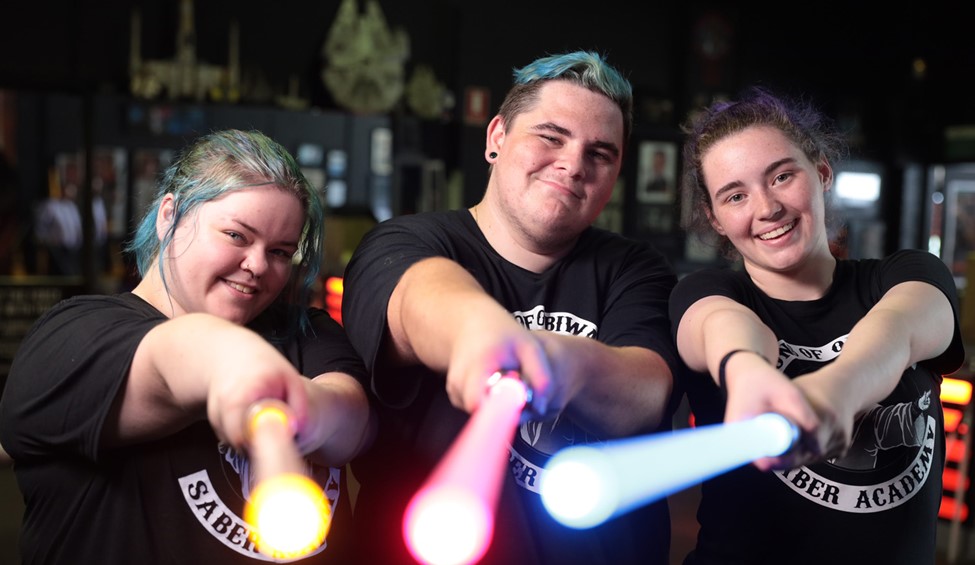 Published on Tuesday 17 March, 2020
Lifestyle Solutions has recently joined forces with Sons of Obiwan Saber Academy, Australia's first light saber theatre combat school.
The Central Coast based community organisation offers an accepting and welcoming environment for anyone interested in learning the unique skill, or building confidence. The organisation often works with children and young people who live with Autism Spectrum Disorder (ASD), and students with special needs.
Lifestyle Solutions' State Leader, NSW North & Regional NSW, Patrick Wilsmore, is excited to partner with Sons of Obiwan. "I saw our partnership being like Hans Solo and Chewbacca, it was that really unique combination," Said Patrick.
Academy Founder and Proprietor, Luke Boyton, said, "We do a lot of work with kids on the spectrum, and the beauty of coming here is they get in touch with themself in a safe space, and then start interacting with others."
Katelyn, who's been training with the Academy for more than a year said, "Before this, I was just sitting in my room all day doing nothing because I was terrified of the outside world, and coming here has really improved those aspects of my life."
Watch the video below, view a photo gallery, and follow Lifestyle Solutions on Facebook for more updates on our partnership with Sons of Obiwan.