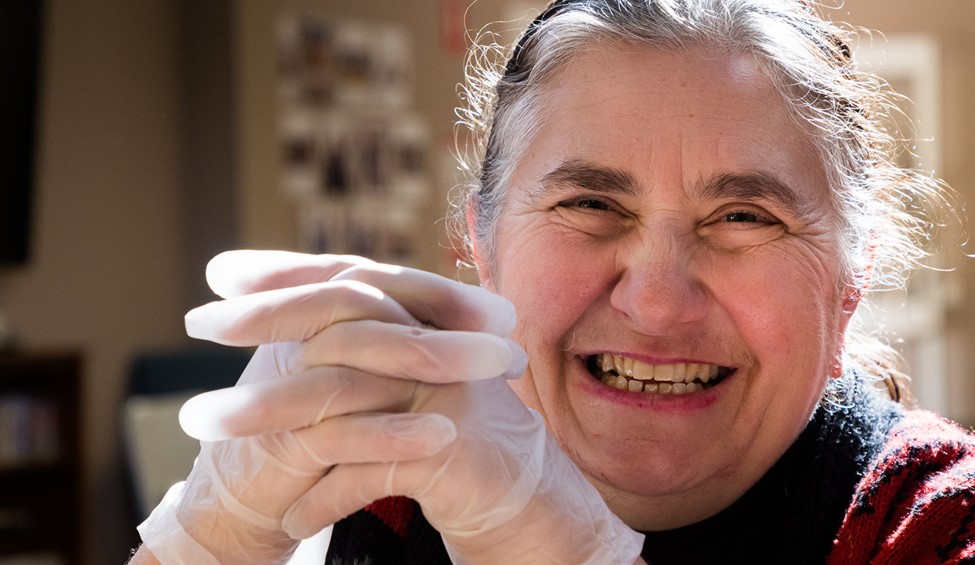 Published on Monday 6 July, 2020
When Lydia presented a Vietnamese crispy pancake recipe as something she'd like to make as a group activity, her support worker Wayne was a little cautious. While it's a healthy and delicious meal, it also has some tricky techniques.
"I really wanted Lydia to be able to achieve this, so I tested the recipe first and looked for areas I'd need to adapt.  There is a bit of technique in getting the pancake the right thickness and in getting it out of the pan.  Lydia is a pretty good cook though, and after my test run, I was confident I could teach her how to do it."
Another aspect of the recipe Wayne liked for our customers was the preparation of brightly coloured vegetables and fresh herbs and condiments.   
"As well as learning new recipes and skills, the social aspect of cooking is really important for our us.  Sitting around the table, taking our time to chop and grate – to explore textures and smells and have a chat or a laugh.  On group cooking days our lunchtimes always have a special feel."
This recipe also introduced our customers to pickled daikon radish.  Their consensus was that a radish should really be red on the outside and white on the inside, however they were prepared to take Wayne's word that this was in fact a genuine radish. Amy, who was charged with slicing the daikons and spring onions, took her time to achieve restaurant quality results. Our customer Michael, who enjoys grating and finds it therapeutic, prepped the fresh carrots.
By lunchtime, the smell of fragrant Vietnamese pancakes had pulled in customers and staff from across the hub, and Lydia and Wayne turned out over a dozen. Several other of our customers enjoyed helping prepare and of course eat Lydia's Vietnamese pancakes, but not everyone likes to be photographed, and we respect that.
Cooking is a central activity across our hubs and homes, and we encourage our customers to suggest and find recipes they love or would like to try. Our support workers enjoy teaching our customers new skills and you can watch Wayne guide Lydia through the pancake making process in the video above.