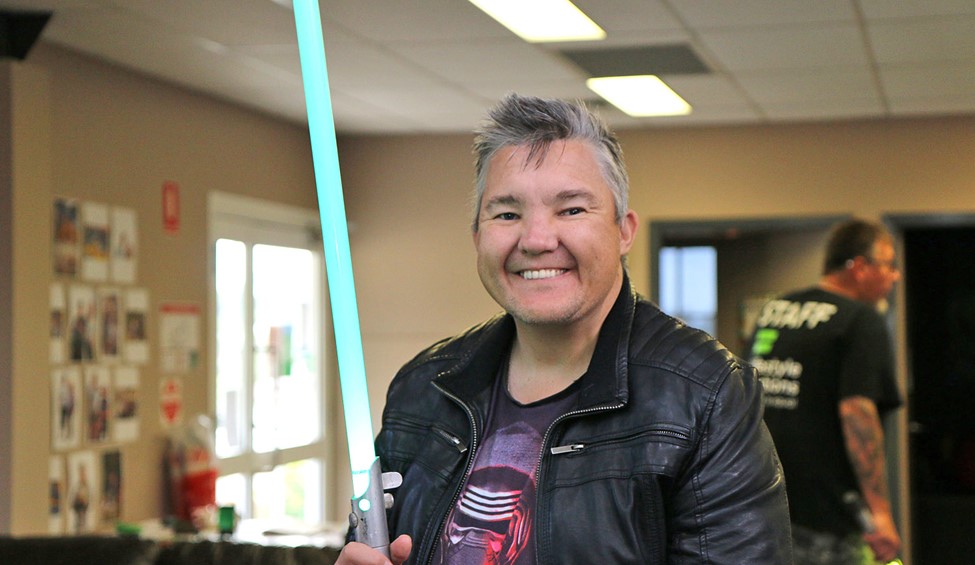 Published on Monday 15 June, 2020
"Ok then. Who's first?'
A former basketball player, Sons of Obiwan lightsaber combat instructor Luke Boyton towers above his pupils. Twirling his lightsaber with one hand he focuses on Tanisha. She is half his height while seated in her wheelchair.
Tanisha cracks her huge smile and laughs. She is up for it – her lightsaber poised ready for action. Beside her stands Coral, flowers in her hair, rocking gently on her feet, also ready to go. Jeff is watching intently – lightsaber by his side and curiosity in his eyes. Luke's taken his new group of rookie Jedi's through basic drill and they are busting to battle.   
Luke plonks onto a kitchen chair and faces off with Tanisha.  She whacks her lightsaber against his as hard as she can. "Softer, softer." Luke encourages her gently. Not that he's worried the lightsaber will break, the Saberdyne Industries lightsabers he makes on the Central Coast are renowned for their combat toughness, but he has warned us that getting hit on the fingers really hurts.
Tanisha quickly gets the hang of it. Her and Luke battle, crossing lightsabers back and forth rhythmically.  You can see Tanisha concentrating - challenging her strength and coordination.   She pushes on, grinning - focused on Luke's movements.  As he senses she is tiring, Luke cheers for her and puts down his lightsaber. Tanisha looks about proudly.  
"Trying something new is good for you." Luke tells the class. "It can be scary at first but that can be fun!"
Luke steps up to Jeff and Jeff smiles. "Are you ready?"
He's a quiet guy Jeff, with a calm kind of grace about him.  He's still a little unsure about all of this. Luke talks him through it, calling when to swing for each hit. "Ready. Go. And Go. Go. Go".  They find a groove and Luke no longer needs to call the shots - the percussive click clacks of the lightsabers doing the talking. They pick up pace.  Jeff's movements are fluid and he seems to have an affinity for the movement.  Luke tells him he has great potential.
"Staring from the bottom puts us all on a level playing field. No-one comes into this class being an expert at lightsaber combat. To be new at something can be challenging and liberating. "
Coral has been itching to step up.  She is strong and focused. Her and Luke are straight at it and she has a good sense of the timing.  Luke increases the tempo and Coral follows. Just when she looks like she could battle for hours, Coral yells out "Drop" and lets her lightsaber fall from her hand.  She turns her back on Luke and walks away.
"Did she just mic drop me?" Luke asks the crowd, already knowing the answer as the laughter builds.
By now Jeff and Tanisha are ready to go again. "Fight them both at the same time" comes the call from another of our customers.  Tanisha and Jeff look at each other and grin. Luke raises his lightsaber.
You can watch Luke battle Jeff and Tansiha in the video below.
Sons of Obiwan theatre combat training is an NDIS approved activity.  We're proud to say we played a big part in making that happen. This class took place at our Wallsend Hub. You can see more pictures of Luke, Tanisha, Jeff, Coral and our other customers and support workers in action in the gallery below.