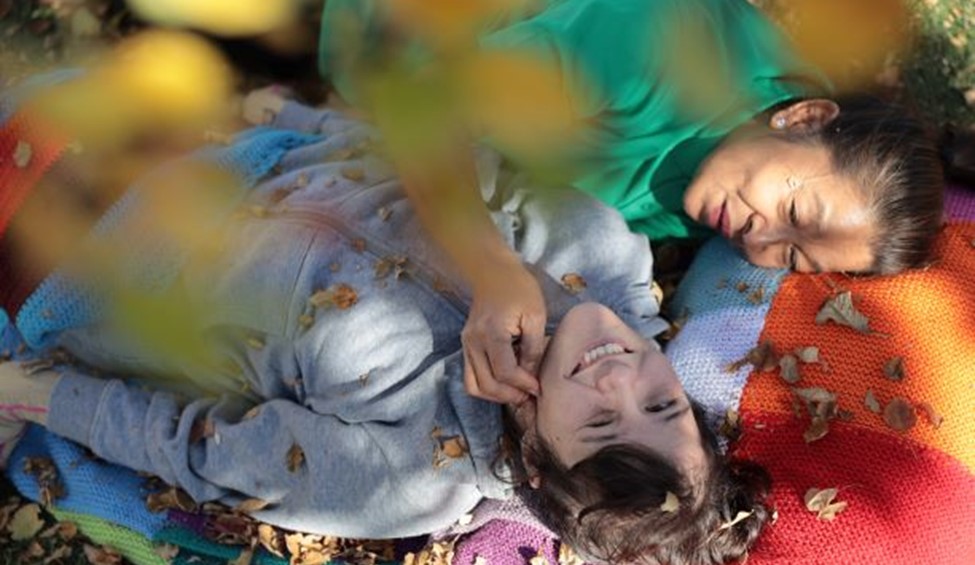 Published on Thursday 23 July, 2020
Kate is stretched out on a blanket on the ground. Above her on a ladder, a member of a film crew drops autumn leaves. One of the leaves lands on Kate's face and she becomes animated, throwing her head back and opening her mouth wide."Should I stop?" The crew member looks concerned.
"No. Drop some more – she really liked that. Can't you see her smiling?"Elcie is lying on the ground next to Kate holding her hand. It's something the support worker and customer often do together, and the crew want to capture moments between them.
"Kate loves to lie down and have a good stretch. She can get sore if she is in her wheelchair for too long. Often it's inside on a soft mat, but on a beautiful day like this she loves to be outside on a blanket and feel the breeze blow over her. That's why she is enjoying the leaves – she loves the feeling on her skin."
Elcie has been Kate's support worker since she started working with Lifestyle Solutions more than ten years ago. While Kate has an acquired brain injury that severely limits her movement and has left her largely non-verbal, the pair have developed a strong language based on sound, gestures and body movement.
"Kate is great at letting me know what she needs and how she is feeling. She can tell me through her face - through her smile or frown and through her eyes. I can also tell from her movements and body language. Once you learn how to read her, she is very expressive. Sometimes it's big gestures which are obvious but often it's very small and subtle things, or a combination of them, that let me know how she is feeling. After so many years together we communicate very easily."
For Elcie, working as a support worker was a natural extension of a life spent caring for and supporting others.
"I was a schoolteacher for a long time. It was a job I really loved. Then I nursed my husband for two years as he battled pancreatic cancer. After he died, I just wanted to keep helping people – keep supporting people who really needed care."
Elcie doesn't see herself as particularly selfless. The joy she receives from making people we support such as Kate happy, is what has kept her in her role for so long.
"I love making jokes with her. She likes to be tickled and to arm wrestle. I love seeing her smile. I love making her happy. Making her happy makes me happy. Drop some more leaves on us."
You can see pictures of Kate and Elcie together in the gallery below.
Watch Elcie and Kate's scene in our recent television commercial.