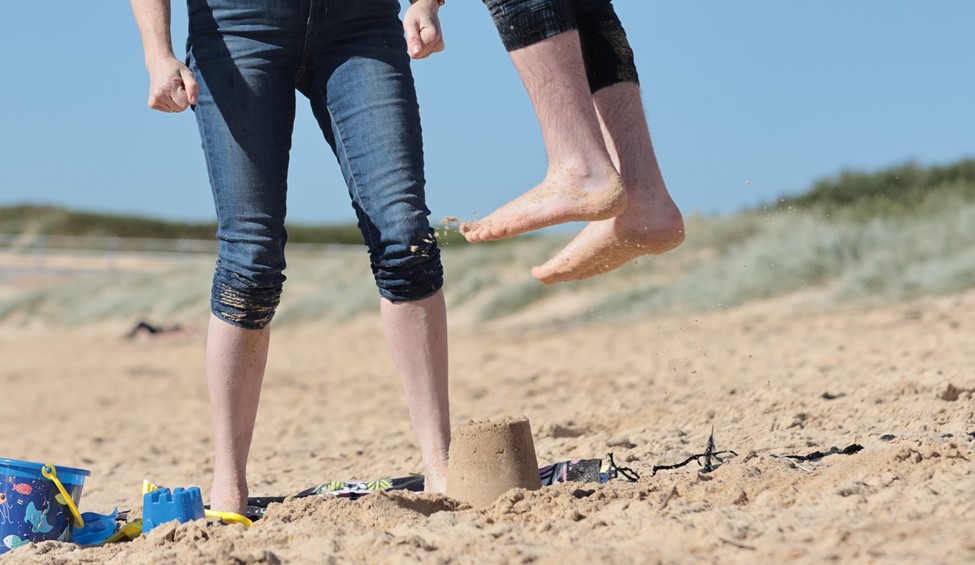 Published on Friday 31 July, 2020
When you build a sandcastle there are only really two things you can do with it: leave it for others or the tide to discover, or stomp on it.
Chris and his support worker Kaylee are both stompers. And while it's seemingly a simple thing to do, Kaylee knows it's the kind of activity that is key to Chris's health and wellbeing.
"Chris is a very active guy. He has an intellectual disability but is very physically coordinated and strong. He loves the beach and he has energy to burn. He also loves to be silly. Stomping on sandcastles is part of a perfect day for Chris."
Kaylee said she came to fully understand Chris's love of the beach during the initial COVID-19 restrictions. Looking for somewhere she could regularly take Chris where it was easy to adhere to social distancing guidelines, she realised how much he loved to spend time there.
"Chris needs that creative play and he needs to burn off energy. He also loves dogs. The beach is the perfect place for all of that. I know he has had a fantastic day at the beach when he falls asleep in the bus on the way home."
Kaylee describes Chris as a very physical young man who can be challenging to work with. It's meeting this challenge to ensure Chris's quality of life that is her favourite part of her role.
"Not all Chris's days are good, so I like it when I am the person who gave him that good day – who made that happen for him. I'm proud to be one of the people who can look after Chris and who he likes to have support him. I like that I have his trust and that I am one of the people who can get him into a swimming pool, which he loves once he is in. The first time I used dive sticks to lure him in. Often when Chris gets hold of something, he doesn't want to give it back, but he is a smart guy - he understood the game and brought them right back to me to throw again. That was a special day for us."
Kaylee said the knowledge and experience of her coworkers was vital in working with Chris.
"We all have different styles and approaches and all gain different insights over time. We share our knowledge and collaborate. My coworker Mick understands Chris well and has a real knack for understanding difficult behaviors. He has helped me a lot and I have a lot of admiration for how he works."
If you happen across an abandoned sandcastle next time you are at the beach, you can leave it for others to enjoy, but it's also perfectly fine to be like Chris and Kaylee, and stomp on it.
You can see Chris and Kaylee getting some sandcastle stomp therapy in the gallery below.