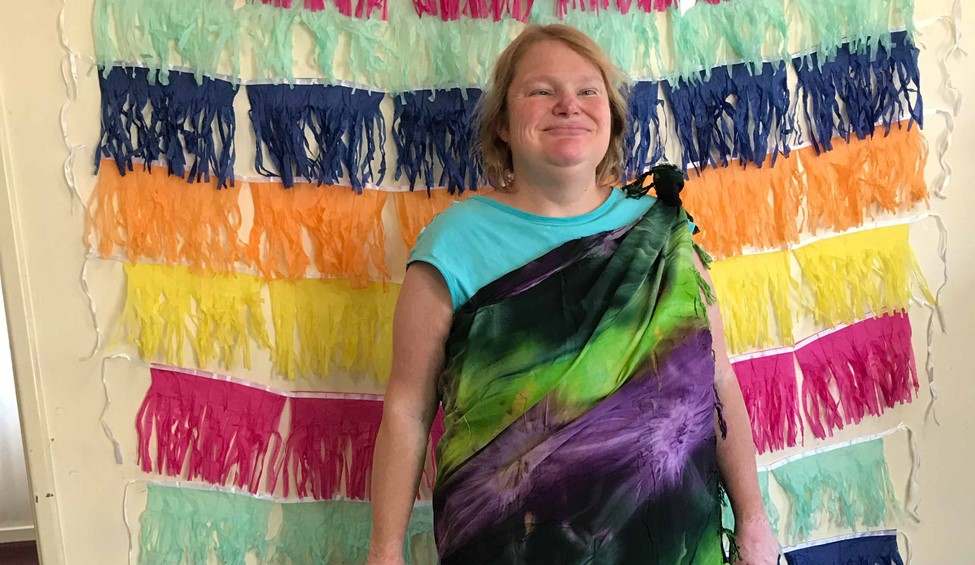 Published on Friday 30 October, 2020
With travel bans and community activities limited, the team at our Life Choices Day Program in Alice Springs decided to bring Bali to the red centre.
With a bit of imagination and open minds, the team incorporated a four-day getaway experience for program participants.
Samantha Henry, Community Support Worker with Life Choices said, "The idea arose in one of our weekly meetings with the people we support where we get together to discuss upcoming activities for our monthly calendar."
"Obviously, we can't travel at the moment, so we thought why not create a getaway experience from here?" said Samantha.
Day program participants were given a list of destinations before they decided they'd take a 'trip' to Bali.
The team leapt into action to plan the getaway experience which began with a 'flight' from Alice Springs to Bali.
Everyone was given an allocated airline ticket, served 'airline style' meals by flight attendants and treated to inflight entertainment.
Inflight meals included sticky rice and mango, and mi goreng, prepared perfectly by the team's Head Chef, Cecillia.
After arriving in Bali, the travellers checked into their resort. The team, who had been inspired by La Plancha Beach, incorporated it's bright colours into the main resort area, decorating it with large bean bags and colourful lights.
The next day they attended their resort's Zumba class led by their very own Zumba instructor, Chloe, and followed it up with a cooking class.
"Our participants were really excited to learn how to make Nasi Goreng so we created a cooking class and a safari experience before everyone headed home for the day," said Samantha.
On the third day of the Bali experience, the team enjoyed smoothie bowls with lots of fruit, as well as a sarong class.
Life Choices program participant, Sandra, said, "I had such an amazing time and especially loved the gluten free smoothies."
"Fleur from Support Coordination brought sarongs in and we did a class with the participants on all the different and fun ways you can wear a sarong," said Samantha.
On the last day the team and program participants spent the morning at the local aquatic centre before boarding a 'flight' back to Alice Springs.
"Everyone had such an amazing time and we can't wait for more getaway experiences in the future."
"We've got New Zealand, Papua New Guinea and Japan on the list of ideas for our next travel experience," said Samantha.