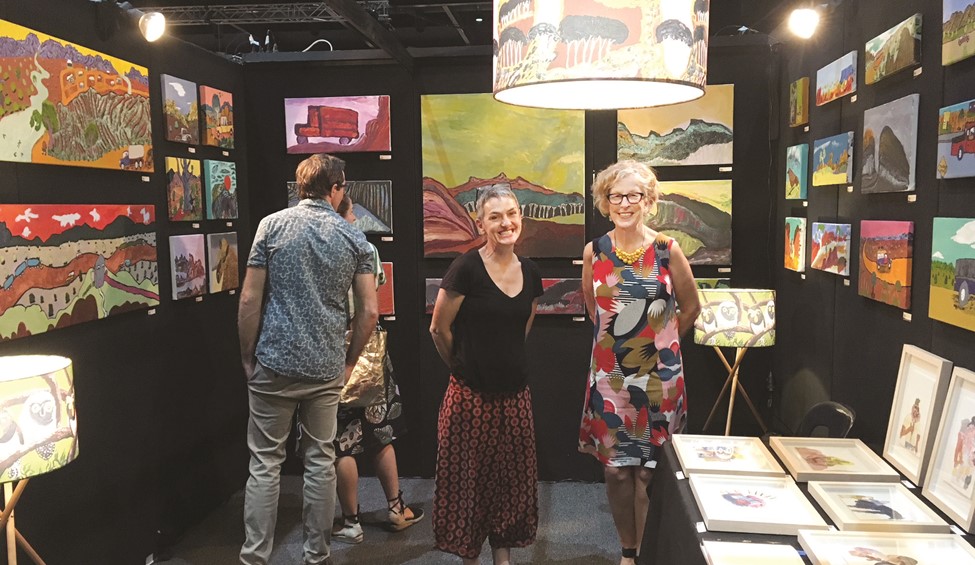 Published on Monday 3 September, 2018
ABOVE: Sandra Brown and Liesl Rockchild launched Bindi's exciting new product line - a range of lamp shades printed with vibrant works of the Bindi Mwerre Anthurre Artists. 
For the first time, Bindi Mwerre Anthurre Artists were invited to exhibit at this year's Darwin Aboriginal Art Fair.
In its 12th year, the Darwin Aboriginal Art Fair (affectionately known as DAAF), was held on 10-12 August 2018 on Larrakia Country, at the Darwin Convention Centre in Northern Territory. The fair showcased the contemporary fine art of over sixty Aboriginal and Torres Strait Islander Art Centres at its annual event.
Emerging and established artists are featured at the fair, and a space is provided for visitors to meet the artists and learn from the variety of cultural groups across Australia. The works are inspired by Australia's rich diversity of remote desert and coastal regions, and rural and urban communities.
Bindi Mwerre Anthurre Artist, Jane Mervin, a Pitjanjatjara woman from Amata, South Australia, who moved to Alice Springs in the early 2000s, was a featured artist at the fair. Jane's beautiful works feature predominantly birds (tjulpu) which she executes with a playful use of texture, colour and story.
Bindi launched its new product line of lamp shades at the fair, developed in pendant, floor lamp and table lamp styles and printed with the vibrant works of Jane Mervin, Kukula McDonald, Adrian Jangala Robertson and Billy Tjampijinpa Kenda.
Liesl Rockchild, Bindi Enterprises Operation Manager, says "Bindi's inaugural participation in the Darwin Aboriginal Art Fair has given us an opportunity to test the market as we launched our new range of domestic lighting, presenting designs from four of the accomplished Mwerre Anthurre Artists."
"The Darwin Aboriginal Art Fair is supporting a 'Culture First' approach and is one of the most important Aboriginal art events in the country."
DAAF was originally designed to complement the National Aboriginal and Torres Strait Islander Art Awards (NATSIAA) and also celebrates the National Indigenous Music Awards and the Garma Festival which are also held over the same week. Together, these prestigious events mark the most significant national festival of Aboriginal and Torres Strait Islander arts in the world.
The Bindi Mwerre Anthurre Artists also recently exhibited at McCulloch & McCulloch, a dynamic Australian art company based on Victoria's Mornington Peninsula.
Bindi Enterprises is a unique community service provider offering a range of supported employment opportunities and training for local people with disability. Today, Bindi provides employment for 23 people, seven of whom work in the Art Centre.