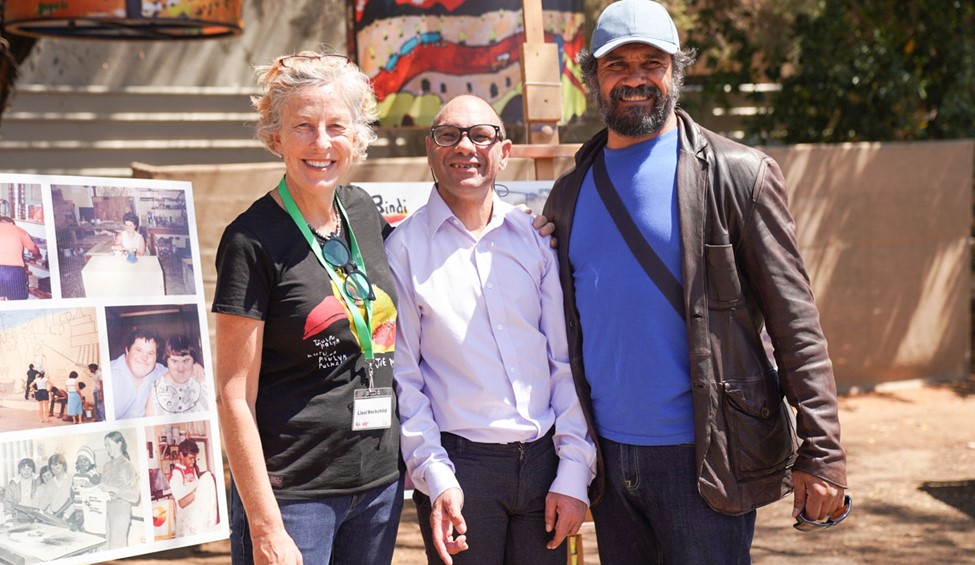 Published on Friday 28 September, 2018
Bindi Enterprises celebrated its 40th anniversary at a special community event in Alice Springs. Actor Aaron Pedersen, and his brother, Vinnie, a former supported worker at Bindi Enterprises, were guest speakers at the event.
Dale Wakefield, Member for Braitling and Minister for Territory Families, introduced the launch of Bindi – Valuing Difference, a beautifully written account of Bindi Enterprises' journey from a small community-based group supporting three young people with disability into the unique organisation it is today.
Written by Joyce Bowden OAM, one of the founders of Bindi Enterprises, and Anne McNamara, the book celebrates the achievements of the people it supports and demonstrates what can be achieved when people with a shared vision work together to provide meaningful pathways for local people with disability.
MC, Andrew Harrison, one of Bindi's popular supported employees, officiated the event and there was a special Bindi Bash performance by Bindi workers.
Click on an image below to view the gallery:
The only organisation of its kind in Central Australia, Bindi Enterprises helps people achieve skills, professional development and financial independence through a range of innovative community programs and services including Bindi Mwerre Anthurre Artists, the Bindi Contracts Department and the Bindi Workshop, and a mail delivery service in association with Australia Post.
| | |
| --- | --- |
| | Bindi Enterprises is committed to supporting people to achieve the best in life skills, training, professional and purposeful opportunities that are equal and celebrate ability. |