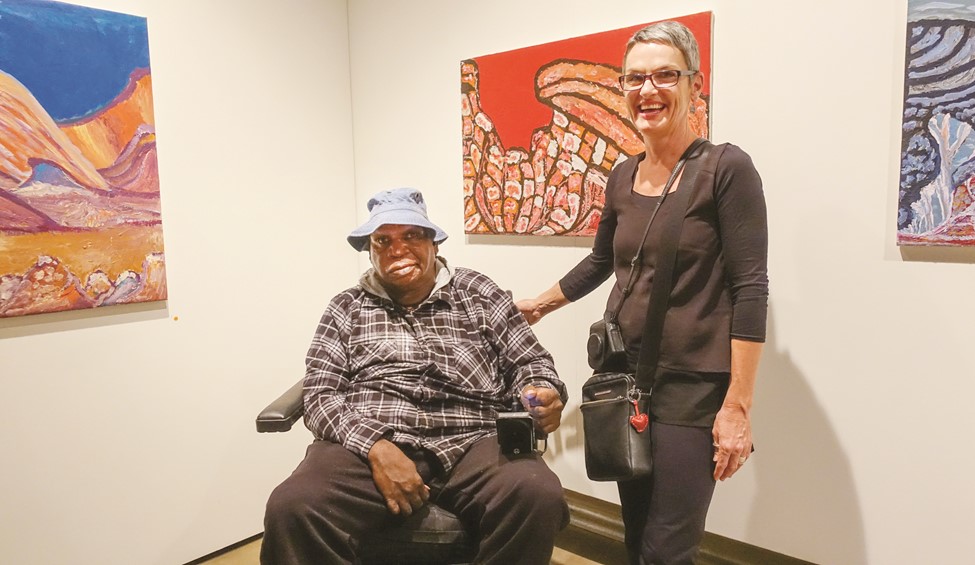 Published on Friday 31 August, 2018
ABOVE: Adrian Jangala Robertson and Artists Services Coordinator, Sandra Brown, at Adrian's exhibition Paint Country.
This year has brought about many successes for Warlpiri landscape artist, Adrian, one of the talented Bindi Mwerre Anthurre Artists in Alice Springs.
Adrian was chosen as a finalist for Alice Springs' national contemporary art award, the Alice Prize. In its 40th year, the Alice Prize is a highlight on Alice Springs' social calendar and a significant event on the national art scene. Adrian, alongside fellow Bindi artist, Billy Tjampijinpa Kenda, were among 560 entries and one of 53 successful applicants who exhibited alongside the likes of Fiona Foley, Vincent Namatjira and Del Cathryn Barton.
Sandra Brown, Artists Services Coordinator at Bindi Enterprises said "Adrian's piece used sweeping brush strokes loaded with paint and movement to convey his mother's country, Yalpirakinu. He paints this piece again and again from memory to reinforce his connection to country."
This year, Adrian was also named a finalist in Telstra's National Aboriginal and Torres Strait Art Awards (NATSIAA). NATSIAA is Australia's longest running and most prestigious Indigenous art award, providing a platform for the very best Australian Indigenous Artists to showcase their pieces from around the country.
Bindi Enterprise Operations Manager, Liesl Rockchild said "Adrian is going from strength to strength and making exciting developments in his career. We are incredibly proud of his recent achievements which are a testament to his intensive commitment to practice."
Adrian has painted with Bindi Mwerre Anthurre Artists since 2002. His paintings consistently refer to the desert mountains, ridges and trees and he recently held a solo exhibition at Raft Artspace in Alice Springs called Paint Country .
Bindi provides a wonderful opportunity for artists to develop their skills and tell their stories in a way that is culturally significant and holds a connection to Country.