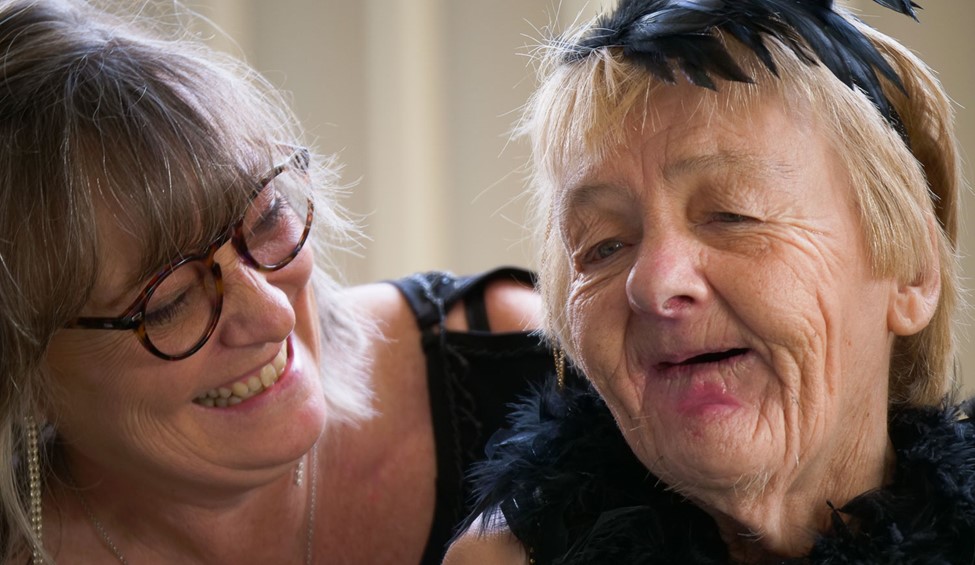 Published on Thursday 5 November, 2020
As the oldest person in our care, Clare holds a special place in many of our hearts. When she turned 80 recently, we ensured she had a day to remember.
Knowing her well, the team at her Woy Woy Specialist Care Facility, Mattgrass, drew up a list of all the things Clare loves and enjoys.  Nurcin Sert, Senior Registered Nurse Facilitator, said the plan was to have as many of those things as possible come together on the day for Clare to enjoy.
"Clare loves glamour, nice clothes and accessories, so we wanted to give her a chance to dress up and feel special. We went with a Great Gatsby theme as we felt it was 'very Clare'.  When Clare tried on her flapper dress and saw herself in the mirror, she loved it so much she wanted to start wearing it immediately.  Our other customers also had fun picking special outfits and dressing up – as did all of the team."
Clare is also known to have a deep love of animals and enjoys collecting plush toys. While the team made sure she got several plush animals as gifts, they wanted to take it a step further. After a lavish lunch and the unwrapping of presents, Clare was given her special surprise.
"We really wanted Clare's 80th birthday to be magical for her, so we booked a petting zoo," said Nurcin. "The look on her face when we walked with her to where they had secretly set up was fantastic. You could see the surprise and joy in her eyes. She loved holding and cuddling the small animals like the rabbit and guinea pig."
The day had the feeling of an extended family celebration for a beloved Matriarch. As well as Clare's housemates and people we support from the adjoining Specialist Care Facility, friends, family and several members of Lifestyle Solutions' Executive Leadership Team attended to personally wish Clare a happy 80th birthday.
Andrew Hyland, Lifestyle Solutions' CEO, presented Clare with several gifts including a plush toy dog, on behalf of the organisation.
"Clare is a remarkable woman and she deserves to be recognised," said Andrew. "We are privileged to be the organisation that supports Clare and celebrate this milestone with her.  We all enjoyed spending time with Clare and getting to know her better. It was wonderful to see her have such a special time surrounded and supported by people who care deeply about her."
Andrew also paid tribute to the team who made Clare's day so special.
"The passion and commitment shown by our frontline workers here today is outstanding. They really went above and beyond to make this a memorable day for Clare, and we were happy to support them.  Many came in on their day off to help set up and to celebrate with Clare.  I think that says a lot about our frontline teams and the culture of our organisation."
After an afternoon of meeting and patting animals, Clare, a renowned sweet tooth, returned to find a dessert bar stocked with beautifully presented treats and of course a birthday cake befitting a much loved, respected and popular lady turning 80.  
You can share Clare's special day in the extensive photo gallery below.