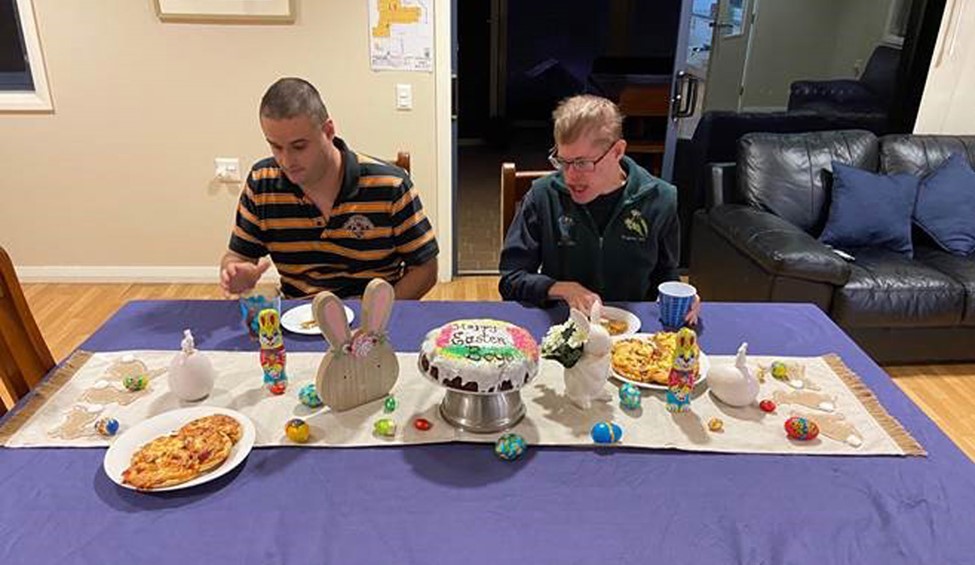 Published on Friday 17 April, 2020
Traditionally a highly social and busy time for the people we support, we had to rethink our approach to Easter this year. To our joy, we found the many small and simple activities we organised gave this Easter a special feel. With creativity, improvisation and passion, our teams created wonderful moments and memories for the people we support across Australia.
In Queensland, lockdown laws meant a number of young people in our care couldn't be with their families. Lifestyle Solutions' Out of Home Care Service teams ensured that each child or young person in our care experienced a fun, rewarding and memorable Easter. Ipswich service had a baking day, in readiness for their Easter Sunday lunch, which was followed by an egg hunt and water play featuring a giant water slide. At our South East QLD Services our teams held Easter themed arts & crafts sessions, competitive Easter egg hunts, sack races, outdoor movie nights, camping in the back yard and Easter brunches. In Central Queensland, our Out of Home Care teams organised arts and crafts, Easter breakfasts, Easter egg hunts, water balloon fights, and water play on the trampoline. 
Unable to hold their traditional group Easter celebrations, our Sydney Foster Carers and Services team took Easter directly to our children in care, personally distributing Easter packs across Sydney. As well as Easter eggs, the packs contained puzzles, games, and art and craft materials to help ensure the children in our care had a fun and interesting Easter, and to take some pressure of our Foster Carers.  
With parks and gardens closed to non-essential activities, the grounds of our Wallsend Hub became a private egg hunting trail for Hayden and his Support Worker Wayne. The Hub's gardens and animal sculptures offered Wayne some unique egg hiding options, and Hayden was delighted to find eggs atop a horse's head and under a monkey's beanie. For Hayden, a bonus was getting to see The Hub's veggie patch and his much-loved spring onions again.  
Across our Supported Independent Living (SIL) houses, the people we support enjoyed Easter feasts, games, and backyard egg hunts. On the Central Coast, Ben and Tim were surprised with a celebration featuring an egg-free cake made from scratch by their support worker Mel. As young people who like to get out and about, social distancing has been tough for the Ben and Tim, and the day reminded them that staying at home can still be a lot of fun. 
In Newcastle, Kath and her Support Workers celebrated Easter by baking Easter egg themed cookies. Cooking and baking have emerged as activities that Kath has an affinity for, and her fresh biscuits were a big hit at the house. Fortunately, Kath loves to share, and she enjoyed seeing the pleasure what she created brought others.  
The people we support weren't the only ones to receive special treatment from our dedicated and passionate people.  In Nambour, support workers Lisa and Indiah baked cakes not only for our the people we support, but for the neighboring residents as well. Lisa and India said they wanted to show their gratitude to their neighbours for the support and good will they had shown to the people we support living at the house.  
Some of our teams, along with the help of keen family members, created care packs for our Residential Services Teams to thank them for their hard work and commitment.
For us, these and hundreds of small and personal moments like these, made this a different and special kind of Easter.