About the apartment
The Parc apartment complex is in the beautiful suburb of Macquarie.
Functional and smart, these SDA homes come pre-fitted with assistive technology including:
automated electric front door
automated lighting throughout
a fully electric adjustable kitchen bench with integrated cooktop
air conditioning
backup battery power
a state-of-the-art emergency response system
The apartments feature:
two bedrooms
a well-appointed balcony
an oversized accessible bathroom and additional guest bathroom, for your day-to-day comfort
The home bathes in natural light and feels bright, modern and homely.
About the bedrooms
The double bedroom has large windows and direct balcony access.
A second bedroom allows you to have overnight in-unit support if required, live with or invite friends and family over to stay. It could also make a great study or extra storage space.
Nearby
With predominantly owner occupancy across the complex, you'll be moving into a supportive community with many activities and opportunities for building connections with neighbours.
Being just across the road from Jamison Plaza, you'll have easy access to a great range of shops, cafes and medical centres. On the ground floor of the complex, you'll find a chiropractor, physiotherapist and cafes.
It's also close to public transport.
About our support

On-site overnight assistance (OOA) support services are accessible, located in a separate apartment in the complex if you do not require full-time support in your own unit.
Download an information flyer: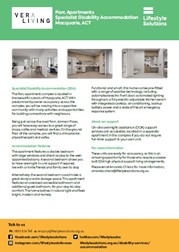 ---
Make an enquiry
If these vacancies aren't suitable, we can discuss setting up a house or placement that's right for you.